BEER saloon
made from WILD oak and black steel -
German friends immediately put their stamp on it "wow, that's a wild bar" - let's call it "Beer Saloon". We think that sums it up pretty well: Lumberjacks and cowboys are brothers in spirit, nature boys with a big love for freedom - and they hang out in the Saloon. The one in the wild west with whiskey, our lumberjack with beer.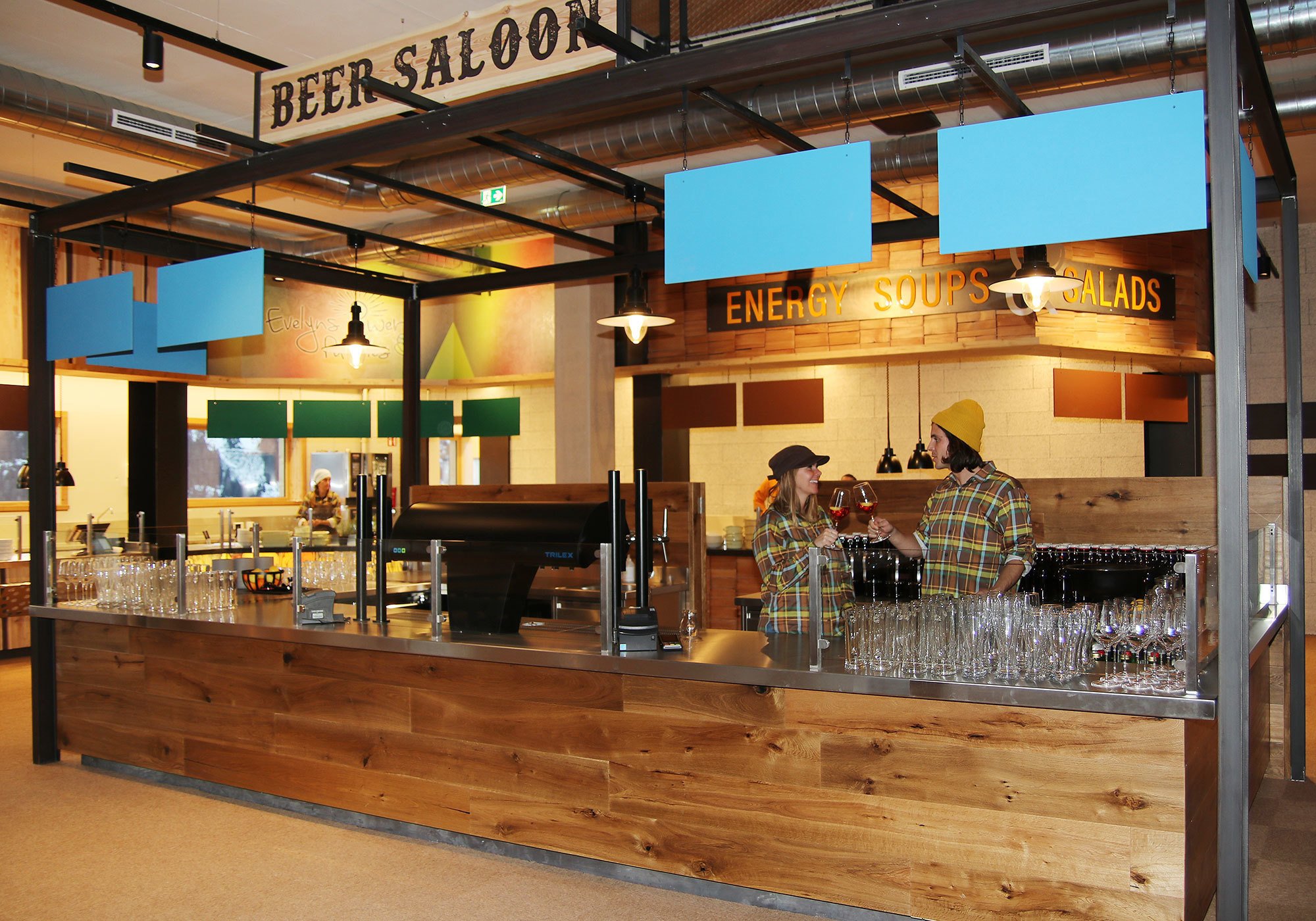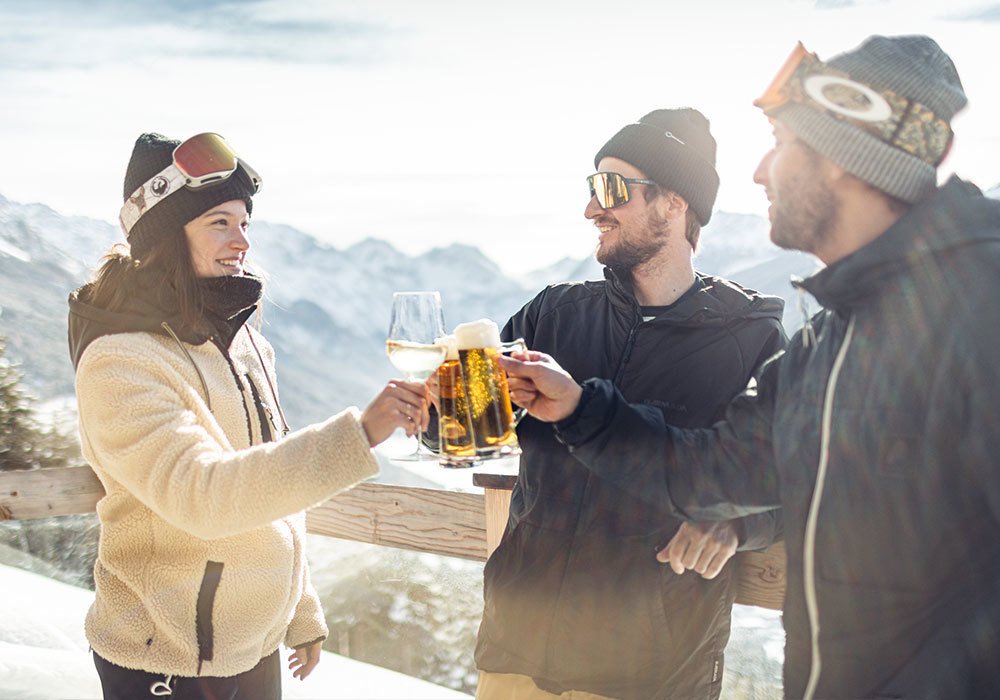 Your hosts in the Beer Saloon
Chrisi Pichler
Chrisi Pichler, your host in the Beer Saloon, is a full-time industrial climber in summer. In addition to this profession, his passion is the forest and its scents. He is a herbal educationalist and collects all the "ingredients" for his "forest smoke", as he calls his incense sticks, in the local forests. He packs his regional handcrafted incense sticks in a wooden wall and labels them with the brand "forest smoke". www.wald-rauch.at
Chrisi, our lumberjack without a chainsaw is supported by Steffi Unterberger. Steffi has worked as a kitchen planner for over 10 years. For 2020, before she decided to change her job, she had planned a time out from work and wanted to travel around the world. In March 2020, she had to cancel her trip due to the corona pandemic and returned back to Austria from South America. Her sorrow, Maria's joy - Steffi subsequently supported the LUMBERJACK planning team as a specialized planner with her valuable Know-How. In October she has started studying to become a teacher. Every weekend and during her holidays, Steffi is Chrisi's right-hand and deputy in the Beer Saloon.
By the way, Chrisi's professional roots are in gastronomy. He learned his trade in the hotel management school, graduated there and repeatedly worked in this sector and entertained guests.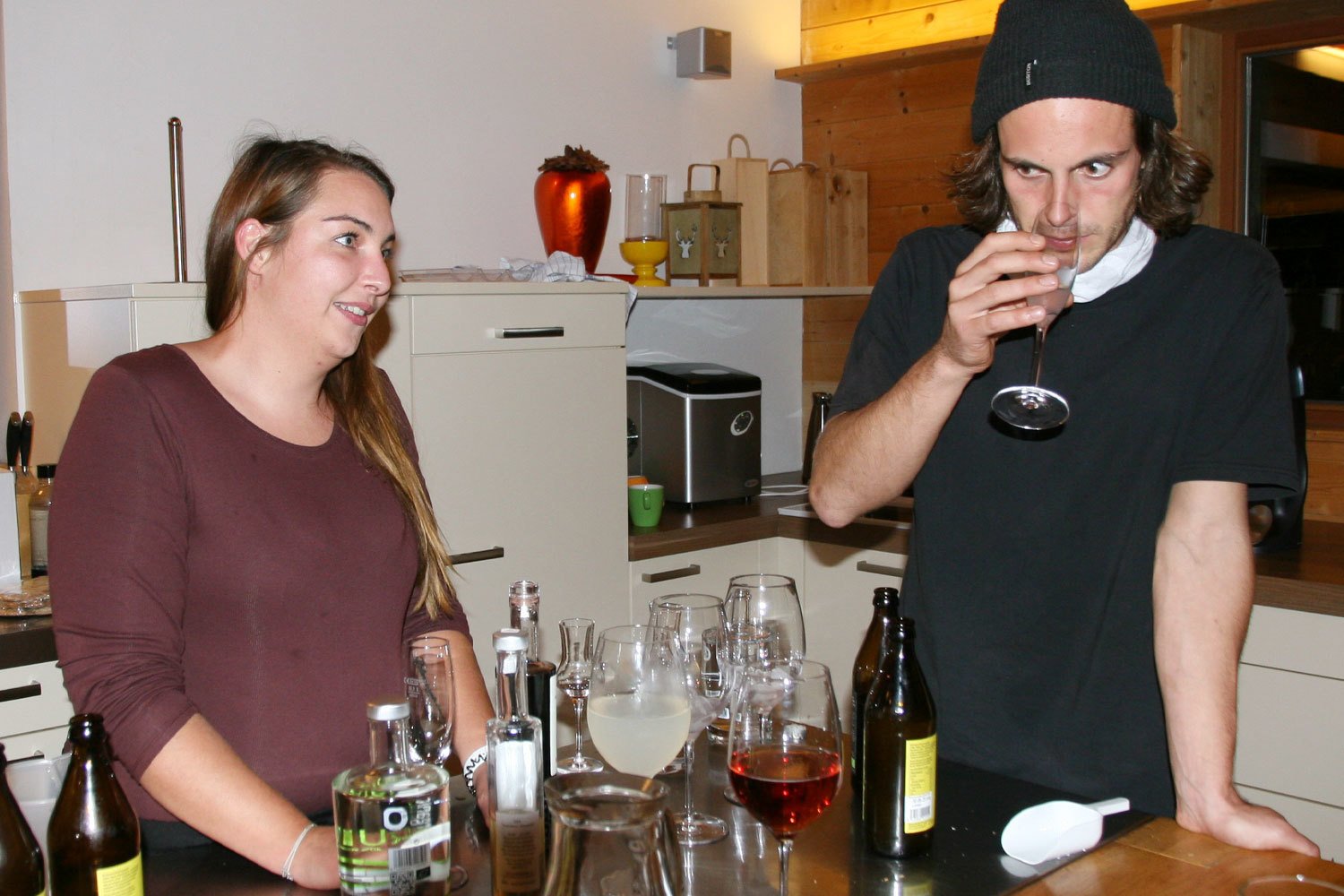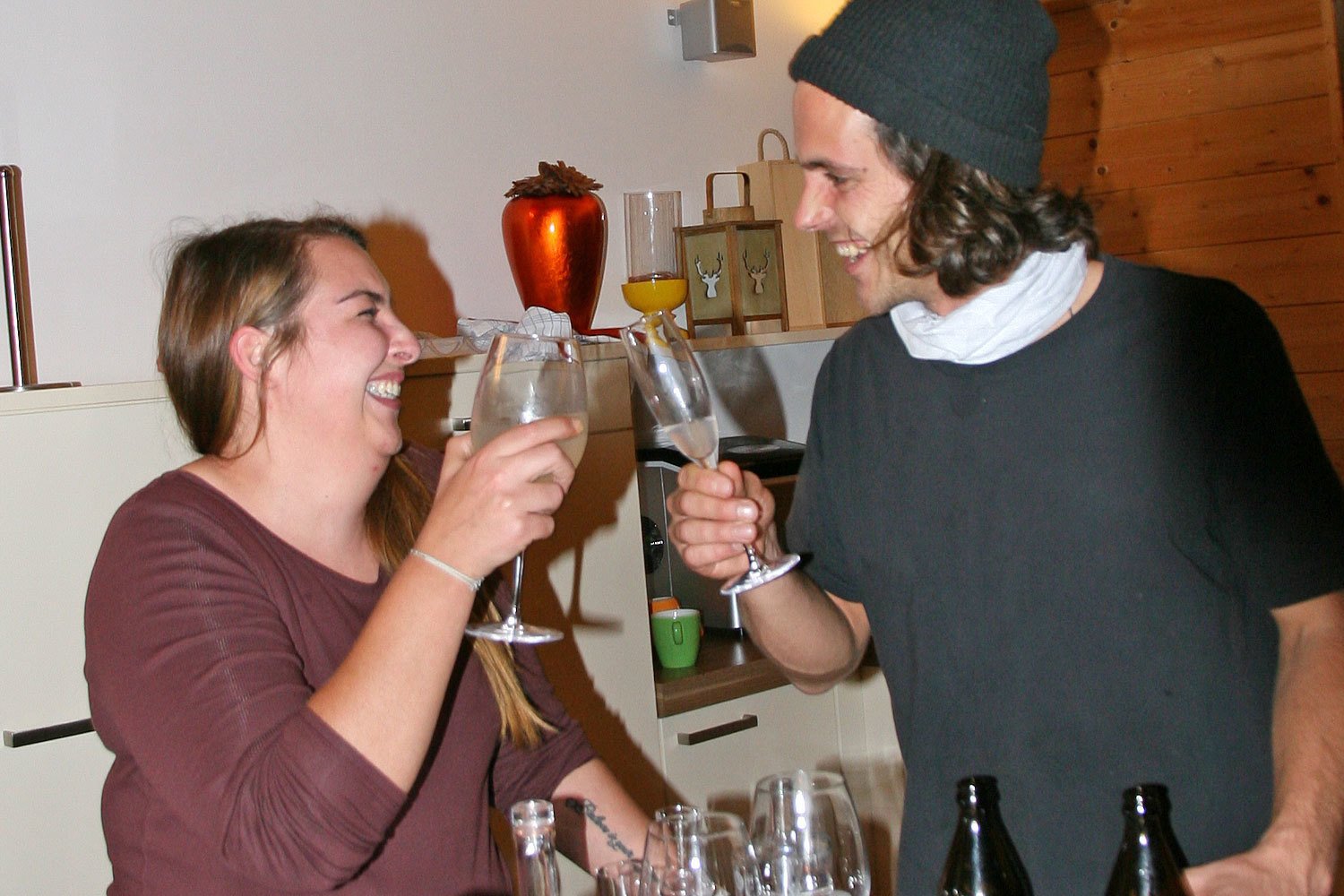 The offerINGS AT the Beer Saloon
3 open draft beers
By Salzburg Bio-Bier Manufaktur Gusswerk, from the award-winning master brewer Reinhold Barta in 4 sizes S,M, L and for the beers also available in the 2 liter XL format. That means, you choose the format:
• a Seidl in a slim 0.3 l mug
• a pint in a 0.5 l mug
• a brown 1 lt. Bottle with a swing plug to share, degust and drink together
• a green 2 liter bottle with a swing plug and a stainless steel handle for the thirsty or to share a drink.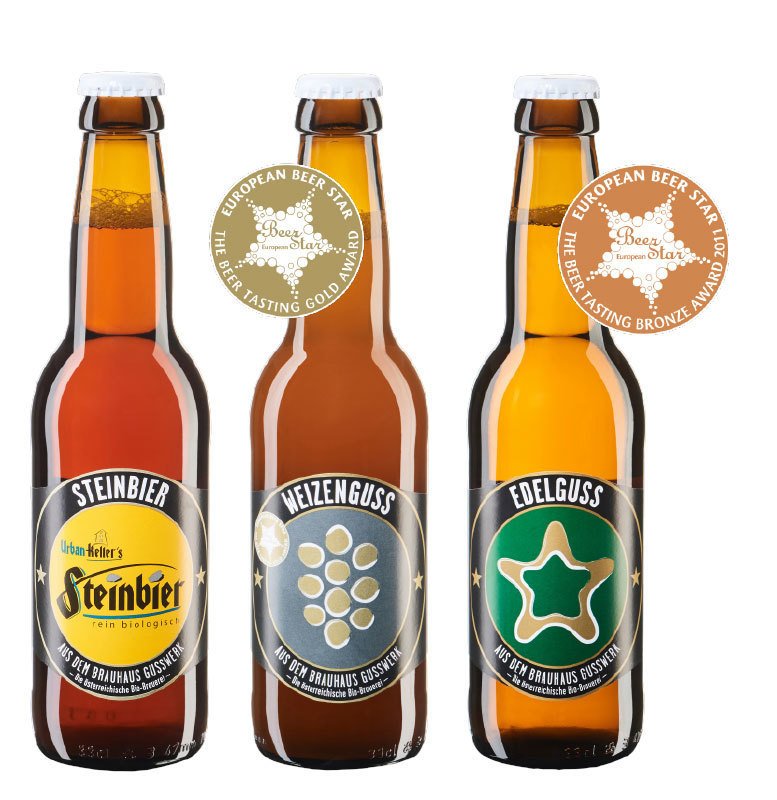 Our Types of beer
• Edelguss: a light, filtered full beer, traditional and tasty
• Weizenguss: robust on the palate, fruity, mild and very refreshing
• Steinbier: an ancient, naturally cloudy special beer, round and tasty

3 Gusswerk organic-Lemonades
In the formats
• S in a 0.25 liter glass mug
• M in the 0.50 liter glass mug
• L in a 1 liter glass mug
IN THE VARIETIES
• Lemon with a little bit of lime
• Orange with a little bit of mango
• a pure organic cola
Universal glasses for the distribution of beer, sodas and juices are set on all tables. Organic lemonades contain significantly less sugar than conventional industrial products.

If you like it very fresh, you can still spritz it, thin it with soda or water.
Fresh, untreated drinking water from the LUMBERJACK spring, which is about 1 km away is available for free at all tables. In addition, in each of the 4 areas of the LUMBERJACK, there is a drinking water fountain to refill the jugs with fresh, untreated spring water. Please serve yourself at any time.
We share the United Nation's call on the issue of water as the source of life, as found in resolution A/64/292: The human right of access to safe and clean drinking water. Goes without saying in Austria and free of charge at the LUMBERJACK.
For us, free access to drinking water is a human right!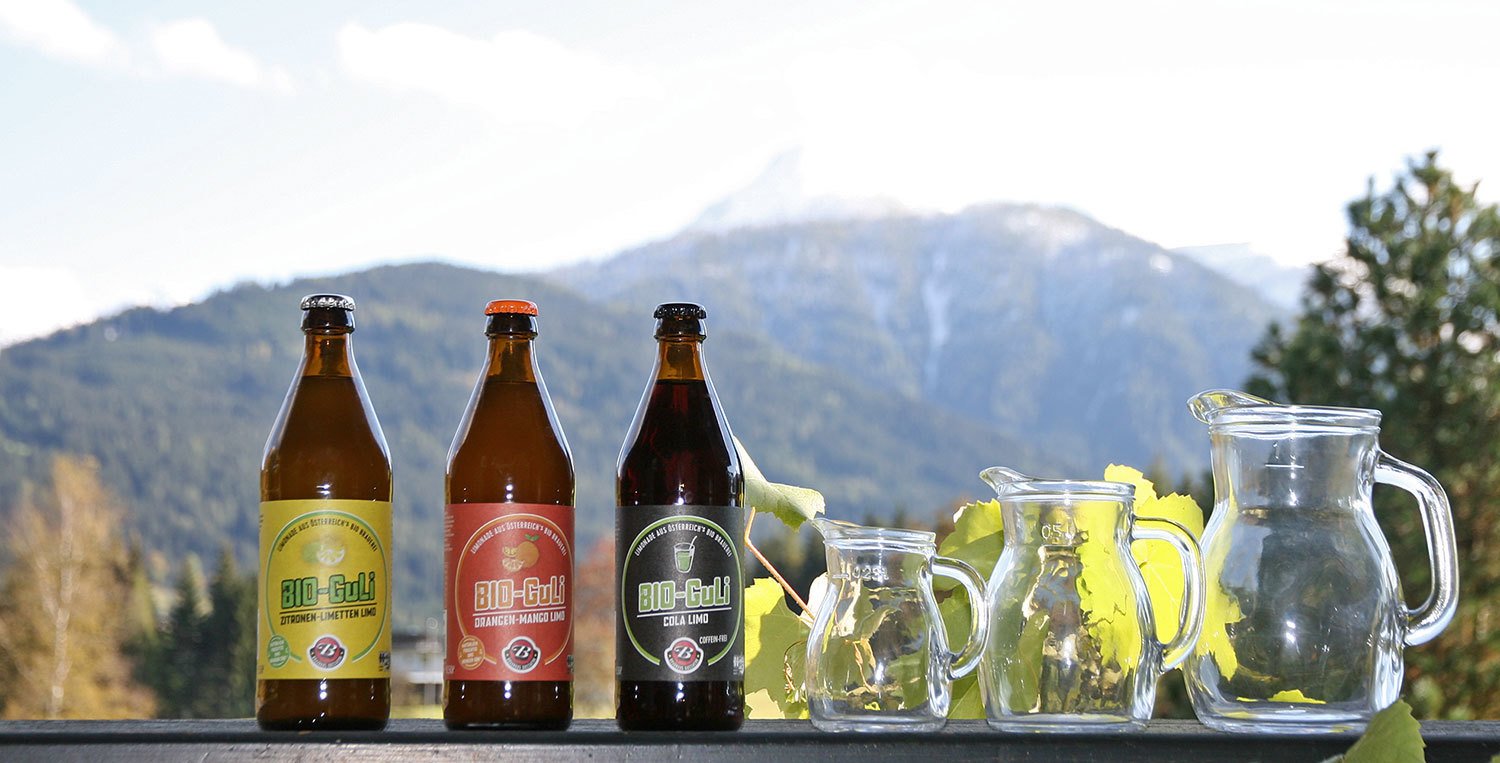 Splashers and Longdrinks
White Spritzer and Holler Spritzer, selected long drinks with black elder and mint syrup, white wine and frizzante, with organic spirits (vodka, gin and white rum) round off the offer in the Beer Saloon. Chrisi's LUMBERJACK drink, with blueberry, liqueur, is the house's recommendation for a special occasion.
The supplier of the organic spirits in the Beer Saloon is the Farthoferer distillery from the Mostviertel in Lower Austria. Doris and Josef Farthofer have received numerous awards for their products and their way of working - www.destillerie-farthofer.at
Organic wine
Organic wine served by the glass or bottled and organic schnapps are served by Brigitte Latini and the family of organic winegrowers Wolfgang & Anita Müller at the wine station in Café Latini.
Shared MEALS and beverage service
Selected drinks in M and L, from the Beer Saloon and the Café Latini will be served, if you have reserved drinks in the Gallery for a shared meal. As you can see, at the LUMBERJACK it's always about sharing and the social culinary experience.