Food Hall
Welcome to the LUMBERJACK!
Your skis & boards are put down at one of the racks - in summer you can leave your bikes there. You enter the Food Hall via the main entrance on the east side through the air trap and you are looking for a vacant table. You have different options to be seated:
On the main floor - the FLEXI AREA - at one of the numerous large mobile tables to the left of one of the four wood-burning stoves. Those tables can be moved outside on tracks in good weather.
On the green, relaxed ATRIUM - on the seating levels or on the on the couch at the platform.
On a cosy sofa in the south-west facing LOUNGE.
If you made a reservation for a group (six persons up), you will be met at the entrance and accompanied to your table up at the GALLERY, located on the first floor right beneath the gables.
Fresh drinking water from our in-house LUMBERJACK-spring will be provided at your table. Needless to say it is included with all meals in unlimited amounts. Now it's time to get an overview of our food and drink range. Our Food Hall concept allows you to choose freely according to your personal likings and to degust the food from station to station.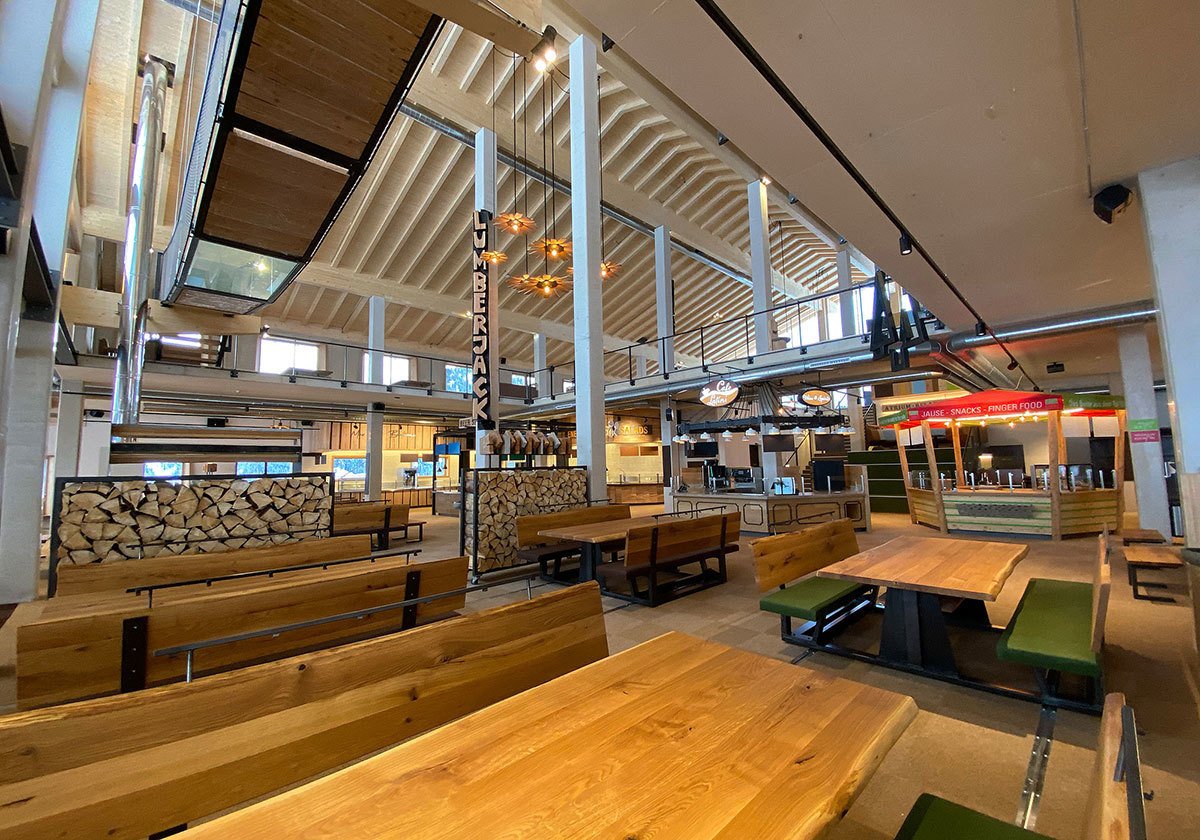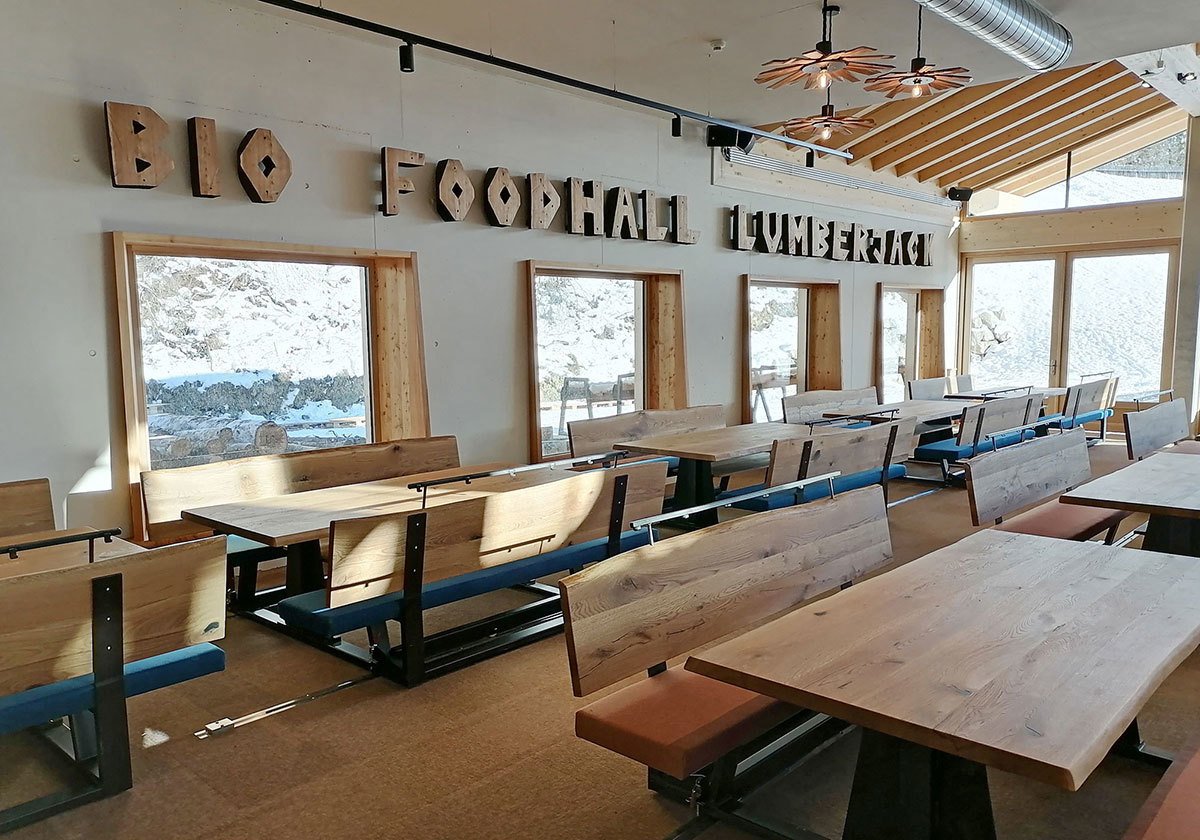 Enjoy your Food in Family style
Try the delcacies of the individual providers, degust your way from station to station. That is what defines the special nature and offerings of a food hall. Of course, it's even more fun with your family or a group of friends.
Our intention at the LUMBERJACK is to revitalize our guest's sense for the good old family meal, the social meal for small groups of friends - in a contemporary way and with the highest possible quality.
High culinary standards and sustainable food is not a contradicition: Everyone takes his proper amount from the large pot or the colourful pan. If there is some ingredient, you don't like, don't eat it. Someone else in your group might love it. Main pont is that everything gets eaten.
If the meal was too much for you, please feel free to pack it and take it with you. It is also part of our concept and brings us closer to the goal of "Zero Waste" at the LUMBERJACK. Eating together makes you happy, tastes better and is sustainable.
All food and drinks are available in small, medium and large. Beer is available also in XLarge (2 litre bottle). Small is one portion, one dish or one glass for one person. Medium is twice the size and calculated with a factor of 1.8. Large is the family portion, 4 times the size and discounted for the family and calculated with a factor of 3.5. Eating together is not only more fun, but it also helps to save money and it is helpful for the family budget.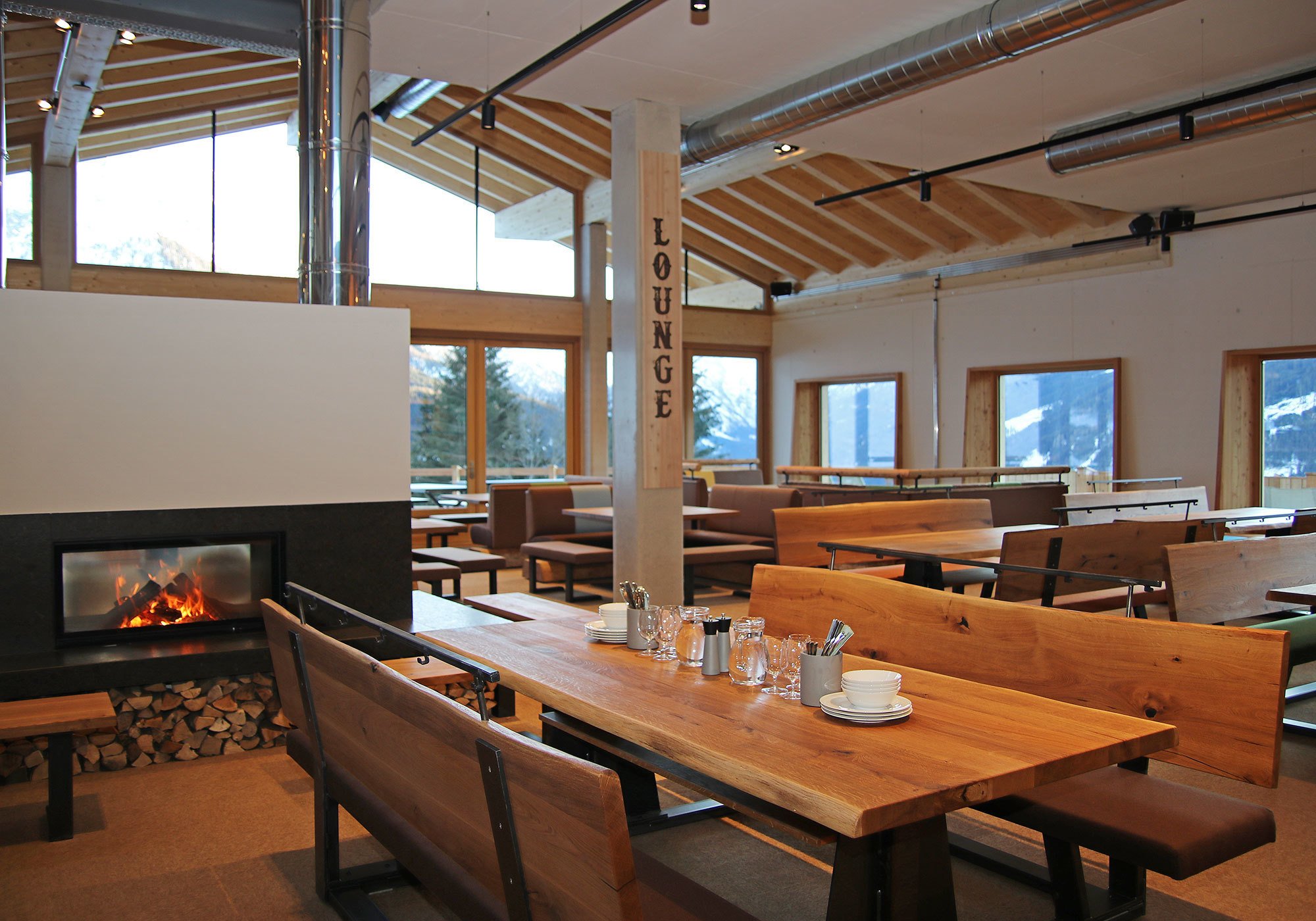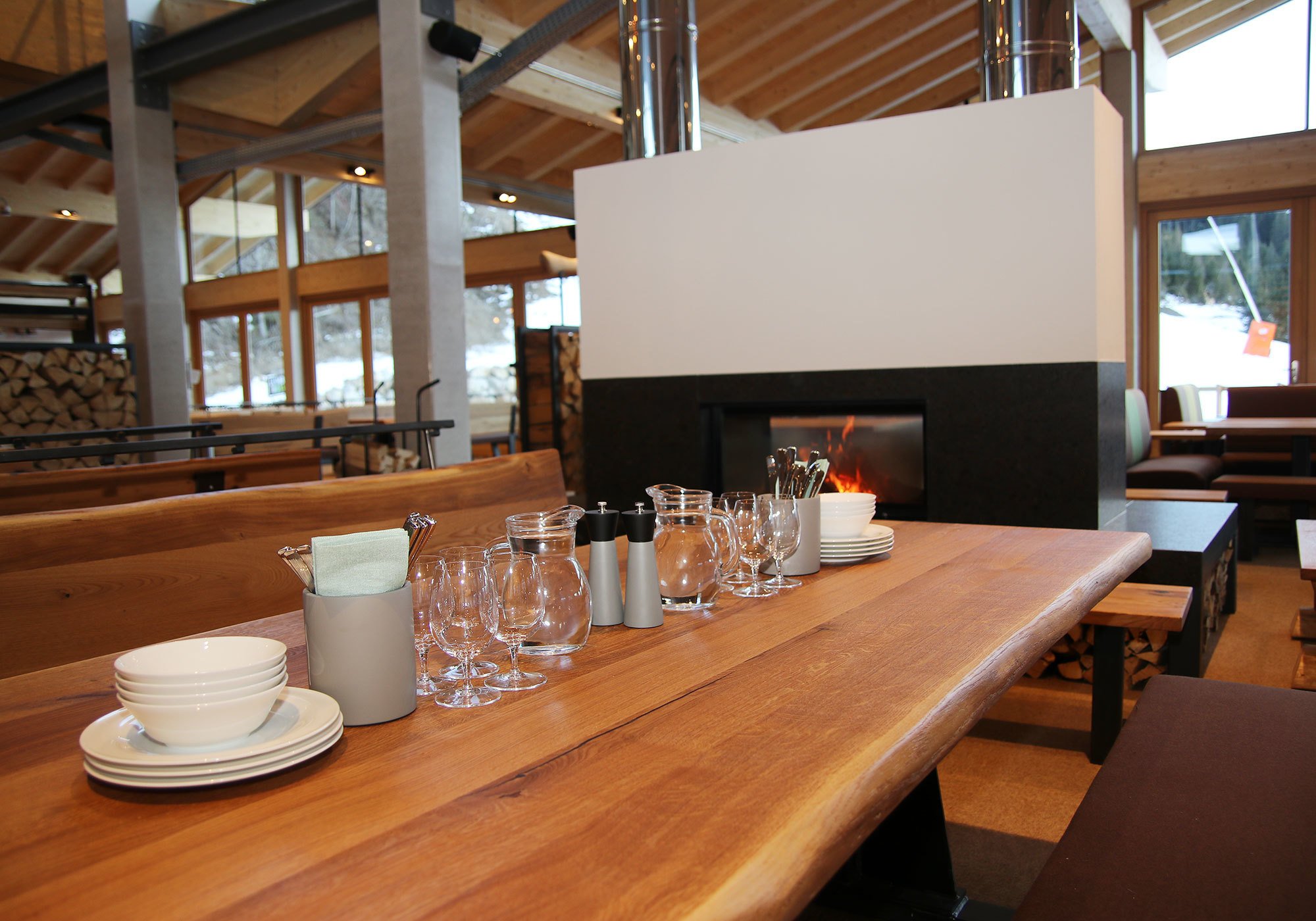 FRIENDS, LET'S GO
Take a seat at one of the large tables, then start exploring the Food Hall one by one. Let's assume you are six people and everyone takes on a role, organizing drinks and food for everyone:
The first one of you will take care about drinks, get an XL bottle of Steinbier and a bottle of apple juice.
For your first sip of beer, treat yourself with a snack board with spreads, chosen and served by the second person.
The third one gets dumpling potpourris in size M with 8 dumplings - you are a group of 6 and you share it as a starter.
After a short discussion, the fourth person is next, you have decided on Nelson Müller's hut dish from Max Meat Boutique, split a portion from the L-Reindl into six. Because you still wanna leave some space for dessert.
That's the responsibility of the fifth one of your group. He/She is spoilt for choice, however choosing is made easy: At the colourful LUMBERJACK cake and ice cream potpourri there's something delicious for everyone.
The job for the sixth person is clear: The second round of drinks is due, last but not least he/she serves some coffee - a small espresso, a caffe latte or a cappuccino?
Lots of fun guaranteed at the LUMBERJACK. Another time you can dive deeper and more individual into the culinary and sustainable world of flexitarians, vegetarians and vegans at the LUMBERJACK.