ARTS AND CRAFTS
MASTERFUL KNOW-HOW AND ARTISTIC SKILLS
This is what makes an artisan. Creating objects from your own designs, that is the aspiration of every craftsman. These items can be unique copies or small series - made from wood, each object is eventually individual.
At LUMBERJACK you will find handicraft displayed everywhere. Large wood and metal installations in the form of furniture, such as mobile wooden coat racks, various tables and benches, lights, lettering, ski racks, … Also here, the matters wood and black steel are omnipresent. Every table, every bench, every couch, every clapboard lamp… all furniture was locally handcrafted from our own designs.

The materials used at LUMBERJACK are exclusively natural local woods (spruce, larch, oak) accompanied by black steel, concrete, loden and stone.
Jonas Rachbauer and Felix Harml designed and crafted the large larchwood and black steel installations - using chainsaws, axes and a welding machine only. The educated sculptor and student of architectur Jonas Rachbauer and the craftsman and student of economy Felix Harml put the LUMBERJACK theme into action. With loads of creativity, full commitment and especially with a lot of fun.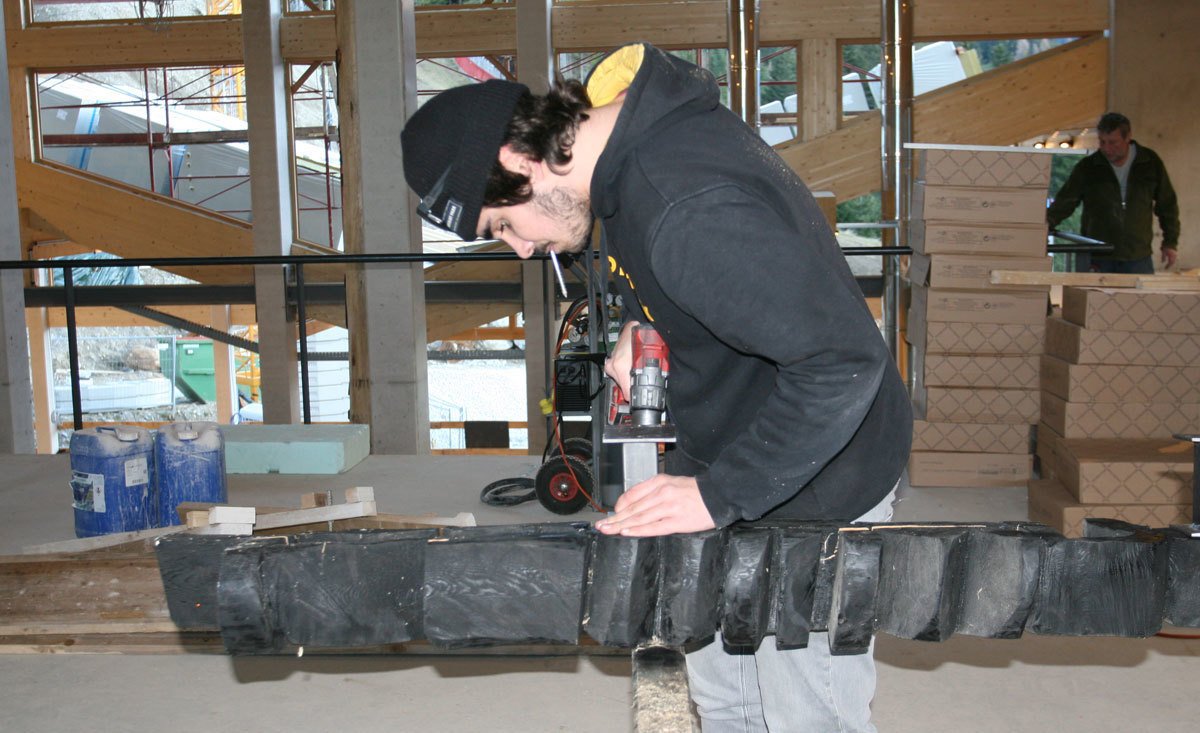 Master carpenter Ernst Rettensteiner is responsible for the entire interior design. Every piece of furniture at LUMBERJACK was specially designed. Ernst's particular ambition was to implement sliding tables in the east-facing area of the Food Hall - the Flexi Area. Ernst put his entire know-how into this table-bench construction and invested a lot of worktime to bring his ideas to perfection. The design of the couch corners in the Lounge Area and on the Gallery is equally unique. .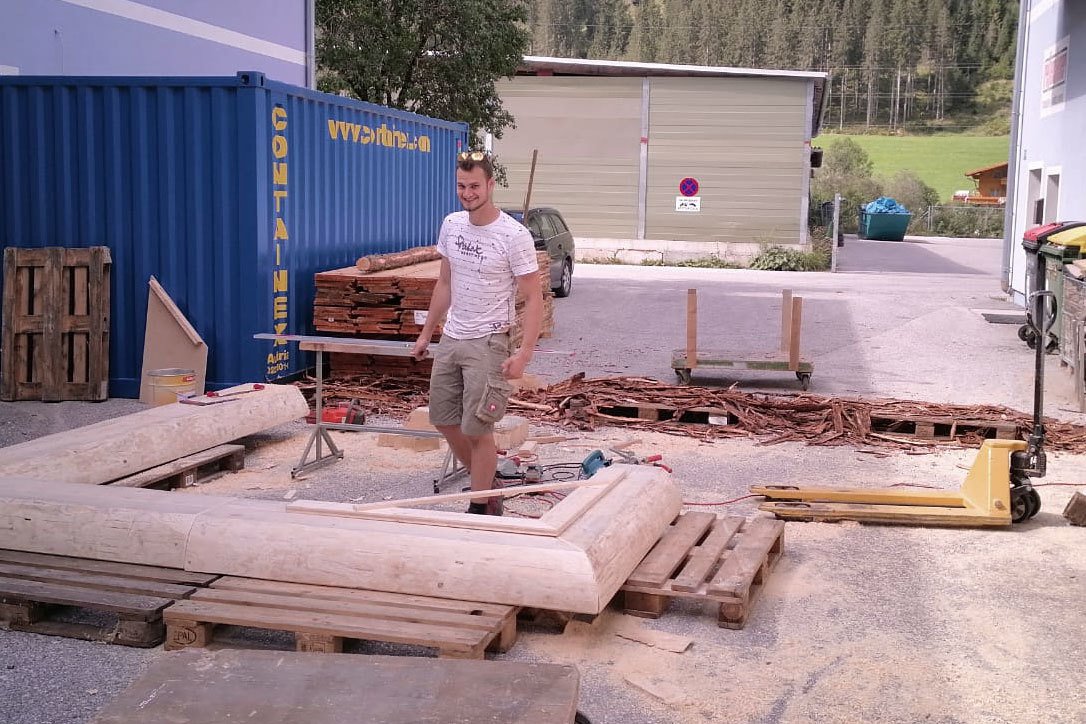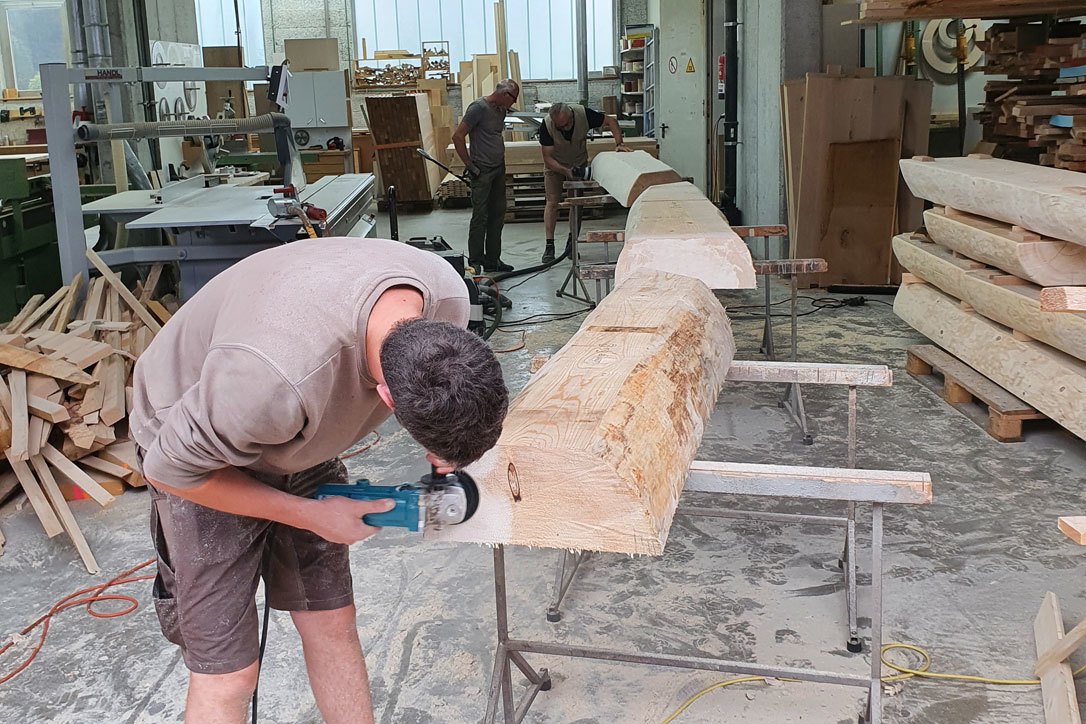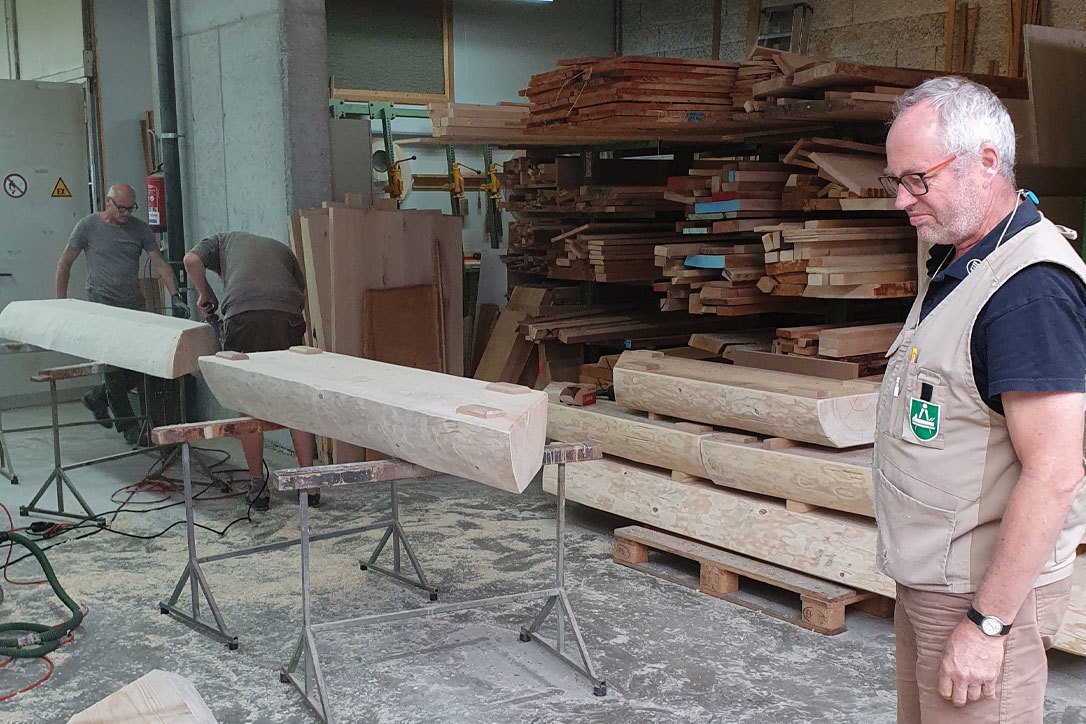 Walter Wagner, a young, creative master carpenter from Kuchl was in charge of the design and distinct execution of the stations in the Food Hall. Put into the right mood for the LUMBERJACK theme by Ernst and Maria, he brought his experience from store- and booth-construction and all his creativity into this project. Station after station, from the Market Stand, the Café Latini, the Beer Saloon to the Max Meat Boutique, Walter has perfectly covered the theme of each station and implemented it within LUMBERJACK in a super skillful manner.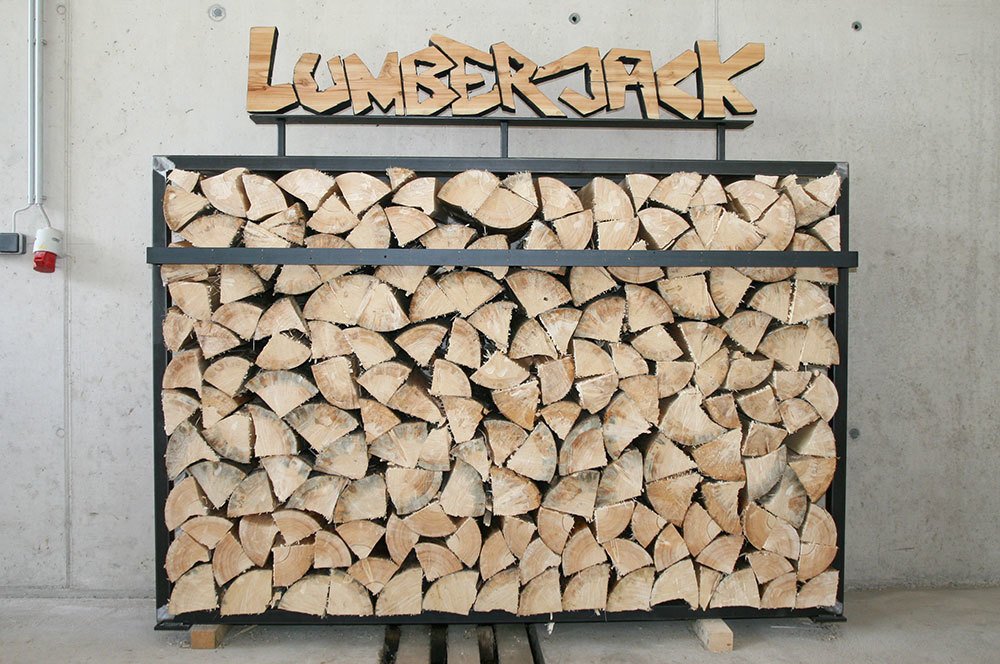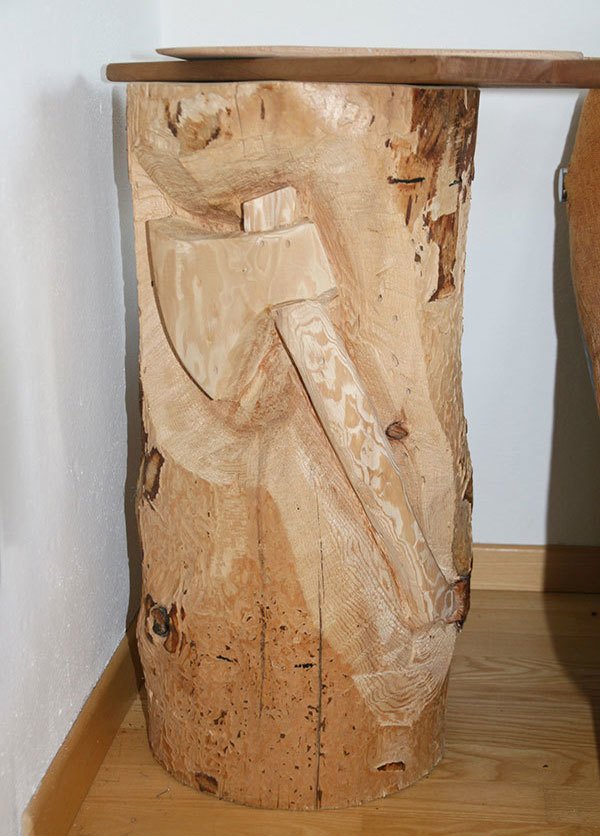 CRAFTSMANSHIP AND REGIONALITY
Regionality is deeply rooted within the DNA of the organic mountain restaurant LUMBERJACK as well as in the own approach of the builder-owner family of Seppi Harml. The radius of partners and suppliers should be as small as possible. Regionality is sustainable, brings added value and prosperity for the region and besides guarantees an authentic execution.
Any touristic project requires local roots and contemporary artisanal performance. All our craftsmen and suppliers stand for this. You'll not find and retro-style or hoke-ups with vintage wood. Or as Maria likes to put it: 'Sustainably built structures gain their own beautiful patina over time. Vintage wood is for the stove'.

List OF PlanerS, CRAFTSMEN AND BUILDING MATERIALS SUPPLIERES
Project leadership, design: Maria Th. Schmid-Harml, Flachau, SL (Salzburger Land)
Architect & planer: Markus Dölzlmüller, Saalfelden, Salzburger Land, SL
Master builder: Georg Hinterleitner, Bauleiter Christoph Hettegger,
responsible site foreman Christian Wieland
all Spiluttini Bau GmbH, St. Johann im Pongau, SL
Planing and executing carpenter-master: Hannes Guggenberger, Kleinarl, SL
and Manfred Thurner, Holzbau Thurner, Wagrain, SL
Planing and executing interior construction und glazing, site management interior construction:
carpenter-master Ernst Rettensteiner, Tischlerei Rettensteiner, Flachauwinkl, SL

carpenter-master Mathias Huber, Jakob Scharfetter, Andy Hagenhofer

Design of the stations: carpenter-master Walter Wagner, Kuchl, SL
glazing supplier: Peter & Josef Gasperlmair, Glas Gasperlmair, Wagrain, SL
Building material supplier: concrete & wood concrete: Sepp & Rupert Harml, Baustoffwerk Radstadt,
Sepp Harml GmbH, Radstadt, SL
wood concrete building blocks: Herbert Schilcher, Iso Span GmbH, Ramingstein, SL
Electric planing & execution: Rupert Stranger, Christian Aigner, Rupert Oberreiter, Andreas Unteregger

Stranger Elektrotechnik GmbH, Altenmarkt, SL

Light design: Monja Deutinger, Volto, Flachau, SL
Tinsmith and roof tiling: Bernhard Heigl, Heigl Dach, Altenmarkt/Pg, SL
Energy concept, heating-, airing-, and sanitary planing and execution:

Fred Vorderegger jun., Helmut Jäger, Richard Salchegger
Alfred Vorderegger GmbH & Co KG, Flachau, SL

Upholsterer-master & floorer: Sepp Flasch, Patrick Reiter, Josef Flasch GmbH, Wagrain, SL
Locksmithery: Josef Fischbacher, Austro-Metall, St. Martin, SL
Tile setter: Michael Harant, Fliesenkultur, Radstadt, SL
Paintwork: Malermeister Thomas Glatzhofer, Kleinarl, SL
Spring tapping: Brunnenmeister Stefan Schaidreiter, Hüttschlag, SL
Ecologic building supervision: Michael Steinwender, Natur-Raum-Management Steinwender, St. Veit, SL
Housing, cooling and kitchen technology planning and execution: Uli Lintl, Gregor Tschmalitsch, Zoltan Trapp

Far Großküchen & Kühltechnik GmbH, Radstadt, SL

Photovoltaic planning and execution: Matthias Fischbacher, Dafi GmbH, Eben/Pg, SL
Stonemasonry: Hans & Michael Herzgesell, Herzgsell GmbH Altenmarkt/Pg, SL
Stoves & chimneys: Hannes Stranger, Lukas Schuetter, KTS GmbH, Eben/Pg, SL
Outdoor facilities, sewage-, power-, water conduit: Daniel Buchner, Josef Fleiß

Swietelsky Baugesellschaft mbH, Niederlassung Bischofshofen, SL

Ground works: Karl Pitzer, Karl Pitzer Bau GmbH, Schladming, Steiermark

Lettering: Thomas Schnabel, Werbetechnik Steiner, Altenmarkt, SL
Design- & color concept, logo, homepage: Sandra Auer, Pink ink GmbH, Flachau, SL
Videography & cut, drone shots: Daniel Maurer, Pink ink GmbH, Flachau, SL
Artisans: all wood- and metal installations, shingle lamps:
Jonas Rachbauer (St.Veit, SL) and Felix Harml (Flachau, SL)
Larch shingles: Matthias Ganschitter, Wagrain, SL


Movies
Kunst und handwerk - Lumberjack