Lumberjack
STOP AT THE ORGANIC MOUNTAIN RESTAURANT
We offer you best regional food for flexitarians, vegetarians and vegans, organized as a food hall. You only eat and drink organic products from the immediate area and based on a clear concept of origin.
OUR OPENING HOURS IN SUMMER AND AUTUMN 2023
From Saturday, May 27th, 2023 to Wednesday, November 1st, 2023 we will be open daily from 9:30 a.m.
The LUMBERJACK is open on all days when the mountain railroads in Kleinarl are also in operation.
The exact calendar of our opening days can be found here.

• May 27 - July 2: Pentecost, May 27 - 29, June 03 - 04, June 08 - 11, June 17 - 18, June 24 - 25, July 1 - 2
• 9 July - 30 August: every Sunday, Monday, Tuesday and Wednesday
• 2 September - 29 October: every Saturday and Sunday
• Special operating days: October 26 - November 1

REGIONALITY THROUGHOUT
Not just the culinary art features best local raw materials and craftsmanship, but also the entire building. Located directly at the bottom station of the Lumberjack Shuttle, comfortable seating on two light-flooded floors with an open gallery, huge winter gardens, large terraces and benches around cosy stoves await you at the LUMBERJACK.
In a friendly, modern ambience, we offer a large selection of soothing dishes that make you fit, made from guaranteed organic products. In short: We provide the perfect, contemporary stop on the mountain.



FAMILIES WELCOME
There is a lot to discover and admire in and around the Lumberjack. We have plenty of space to play and to cruise with our go karts and other vehicles.

The Lumberjack offers the perfect stop for the whole family.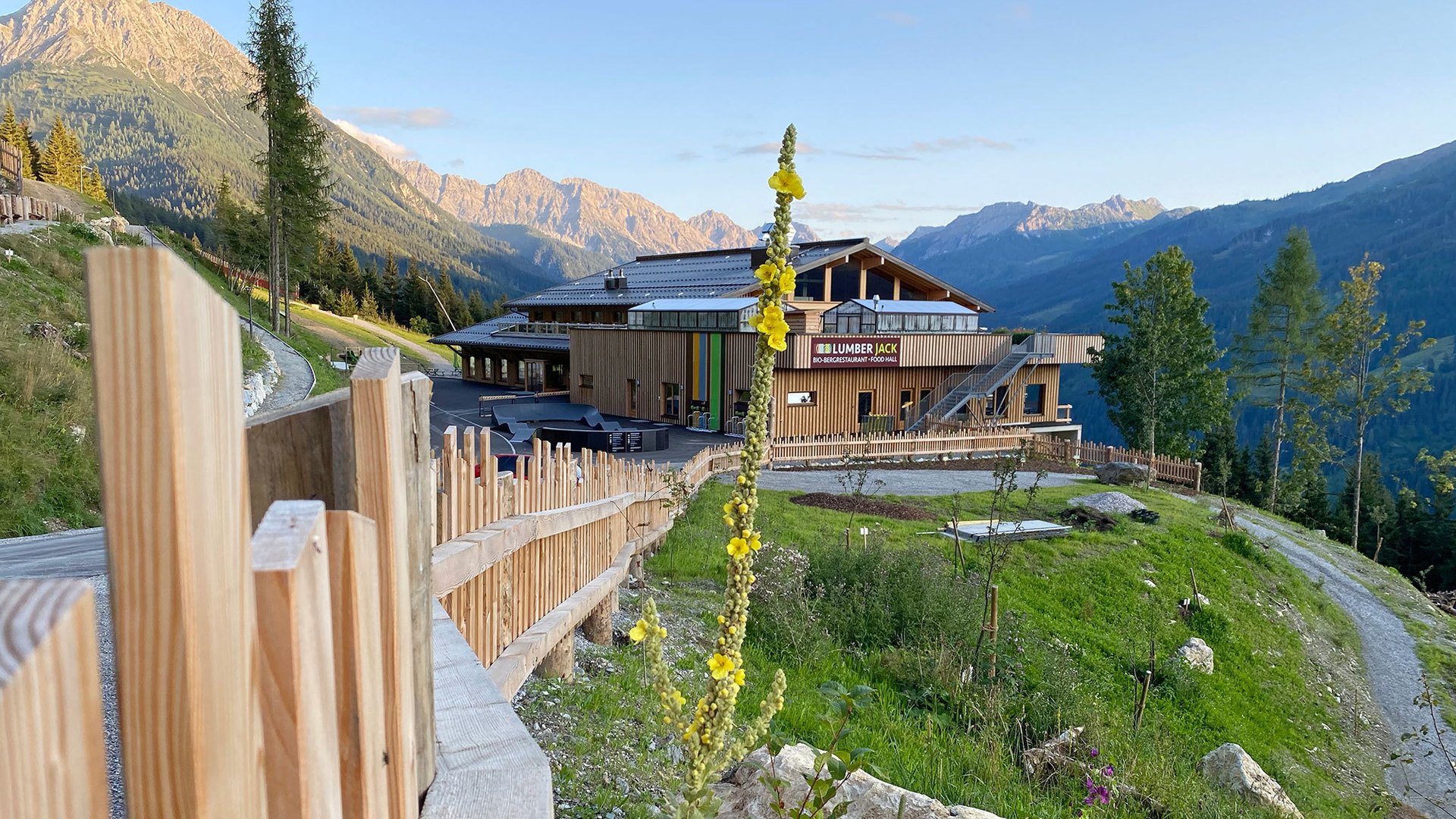 Enjoying the food together makes it better
The LUMBERJACK is organised as a Food Hall. Our stations, all of them are independent caterers and chefs, who cook only with organic food, offer everything your culinary heart desires. Regardless if you are flexitarian, vegetarian or vegan: Everyone will find their desired dish at LUMBERJACK.
And because nothing is nicer than enjoying food together, lumberjack also means sharing and coming together with full plates, steaming soup pots and pans in the middle of the table. Today it is called "shared dishes", we simply say eating in family style: eating together with family and friends.
We welcome kids and teens in groups with their ski instructors in our own restaurant on a separated floor. All the food will be served with the same organic quality and with the same high standards.


Organic and wild HARVESTING
All stations and partners, like the entire Food Hall, are organic-certified and members of Bio-Austria. All ingredients for food and drinks are organic. There is only organic food and drinks at the LUMBERJACK. Even if this is not mentioned all the time. It is obvious. All stations offer a special LUMBERJACK creation with ingredients from wild harvesting (mushrooms, berries, herbs, ...) from the forest. This dish or drink is "the speciality / our recommendation of the house".

SUMMER 2022
THIS WAS OUR FIRST WINTER AT LUMBERJACK