Max Meat Boutique
Max Pfeiffenberger is Patron and ePONYM
of the meat and fish dish station. "Brutal regional" (meaning 'resolutely regional') is Max's slogan for his cuisine and his principle when he chooses his viands. At the LUMBERJACK, he combines these high standards with organic quality. True to the motto of "flexitarians" - 'if I choose meat, then just high quality one, whose origin is known' - that's how Max runs his meat boutique at the LUMBERJACK. In the meat vitrine at the front of his station, he presents the pieces of meat that he uses for his dishes. In the dry ager, the fine cuts mature until they are worthy to land on Max's lava grill to be served rare, medium or well-done.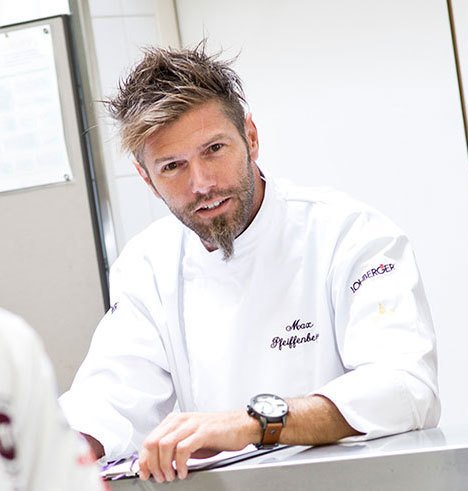 Meat only from the valley
The meat for the dishes in Max Meat Boutique is exclusively from Kleinarl and Wagrain. The organic farmers of the cooperative from Bio aus dem Tal supply Max with a whole cattle every two weeks for his station at the LUMBERJACK - to be precise, two halves of beef and the innards. Max and his butcher utilize everything from 'nose to tail' as it is called. Sustainable recycling of all parts of an animal, self-evident for any butcher or farmer back in the days.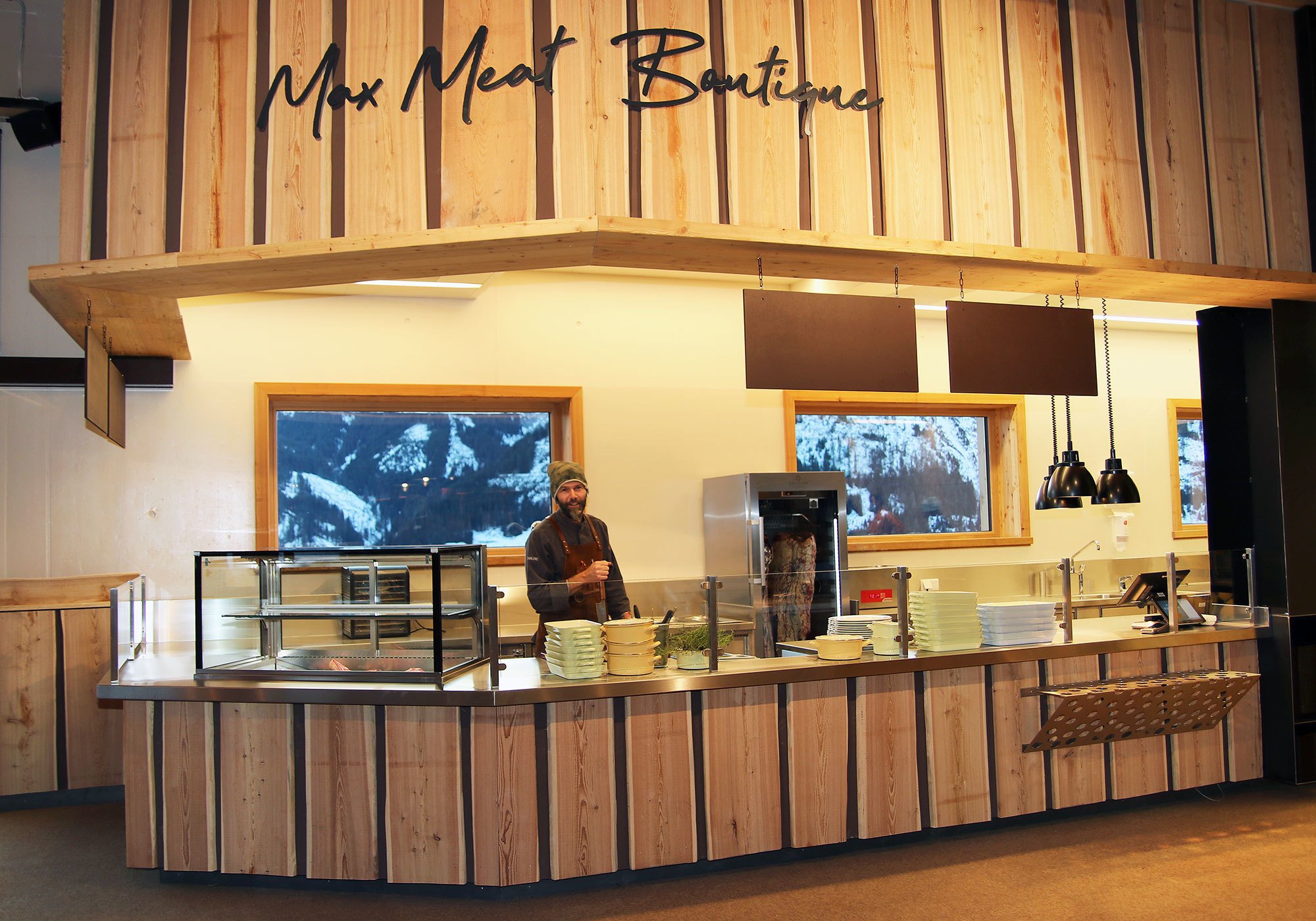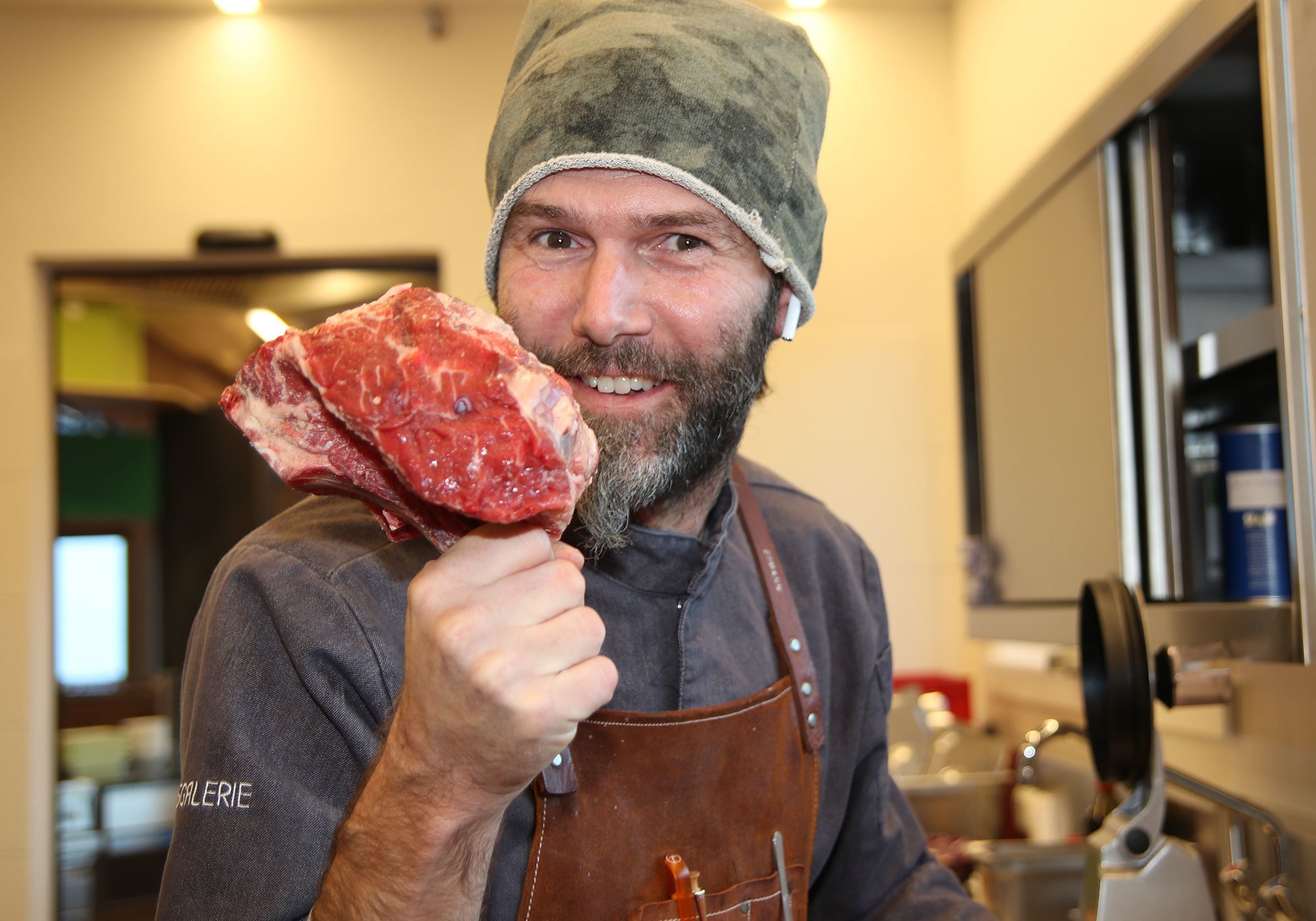 Cook by CALLING and passion
At the tender age of five, Max was convinced: I will become a chef. 1994 he started an apprenticeship as a cook in Flachau. Then his international apprenticeship and travel year in the top gastronomy around the globe began. When he became a father for the first time in 2002, it became clear for him to put his passion for cooking back into his home region Salzburg, now as a chef.

Since 2015 Max has been an independent host and chef with his own restaurant who focuses on regionality, healthy and tasty food. We, Eva and Maria, have been working successfully with Max since the beginning as a caterer for the ALPIN CHALETS. As a second and important pillar, Max runs a catering company together with a partner.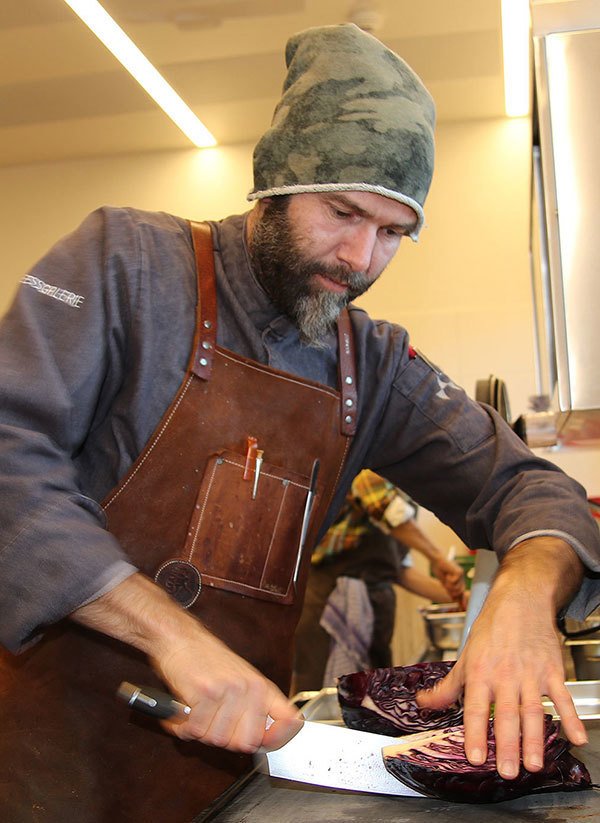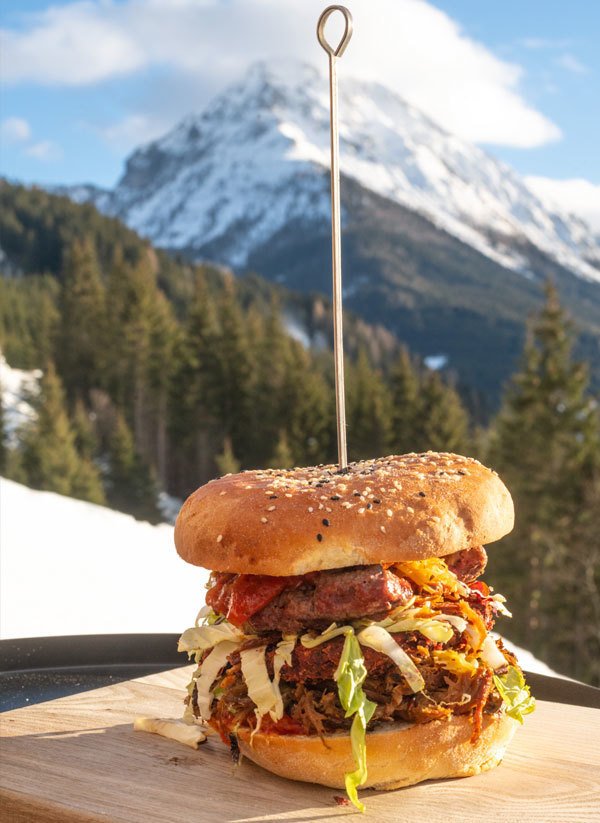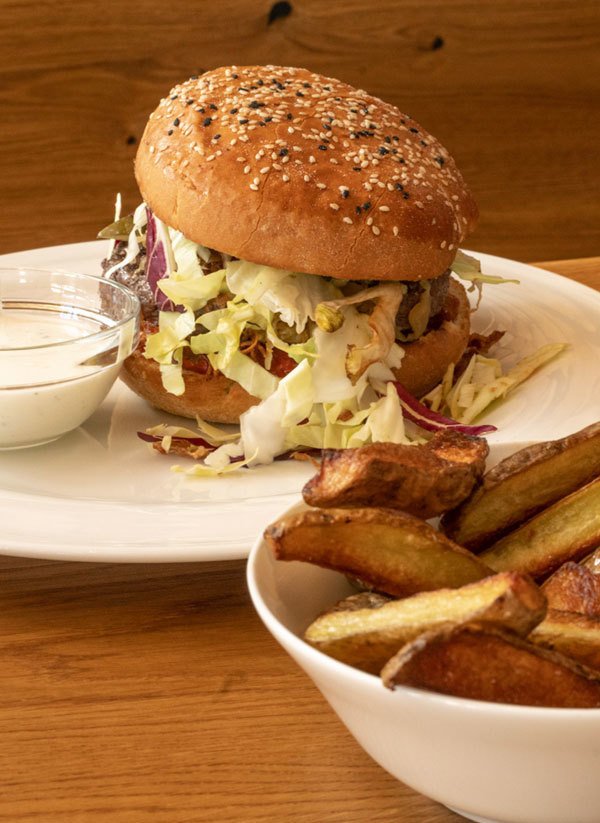 Meat in the highest PERFECTION
Max's know-how in terms of meat maturing, his handling of all parts of the animal, his claim to make something special out of every single piece of meat, corresponds 100% with the idea of a flexitarian: If I choose meat, then just high quality, in regionally organic quality of an animal whose origin is known.
Max only uses Austrian products that are fresh and seasonal, he creates regional and international culinary delicacies - at the LUMBERJACK in organic quality. These shared values and Max's creativity unite us and made him the first choice for meat dishes at the LUMBERJACK. Max is an important partner and a guarantor for the implementation of the LUMBERJACK idea - in terms of quality and sustainability.

Max Meat Boutique - MENU
#Brutal Regional
Beef exclusively from Bio aus dem Tal - Wagrain-Kleinarl – Nose to Tail
We are using the whole of our kettle. For that reason, it might happen that we are running out of your favorite dish in case the meat part used is out.
SAVORY AND COLD
Pickled Shoulder Tip with Butterbeans and Kernel Oil
Minced Bio Beef with Chanterelles and Brown Butter
Grilled Carpaccio with Chinese Cabbage und Smoked Schotten Cheese
MEat soups
Tied chicken soup pot with vegetable garnish and buckwheat - cooked as a garnish and popped as a topping
Hearty beef soup with various items (liver dumplings, sausage dumplings, herb fries, cooked cheese dumplings ...). There are always at least 2 deposits to choose from. Vegetable soups - thickened and clear soups with deposits are available from Soups & Salads.
Dumpling potpourri in strong beef soup with tasty dumplings in different sizes
S: 4 dumplings in the soup bowl
M: 8 dumplings in a small soup pot
L: 16 dumplings in a large soup pot
A DELECTATION PART BY PART, DISH BY DISH
Nelson Müllers Ski & Gourmet Meal 2021 - Sauerbraten from Bio-Beef with Red Cabbage and Black Bread Dumplings
Lumberjack Schnitzel - Beef Cutlet from the Lava Grill with Chanterelles and Potatoes
Grilled Dry Age Steak with Winter Salad and Grains
Salzburger Bierfleisch Goulash with Polenta and Root Vegetables
Weißes Scherzl boiled Eye of Round Steak with Horseradish and Scalloped Potatoes
Roasted Bbq-Rib with Sweet Potatoes and Winter Vegetables
Beef Roulade with Mashed Potatoes and Carrots
Stewed Beef Cut with Chanterelles and Buckwheat
Boiled Beef Hock (Osso Bucco) with Semolina Porridge and Pumpkin
Stewed Oxtail with Horseradish and Chanterelles
Pastrami with Wedges and Grilled Vegetables

Once Matured, there's Dry Age Steak
Comes with vegetable wedges.
Porterhouse-Steak - large Roastbeefsteak 700–1000 g, with bone and big share of filet – larger cut than T-Bone-Steak
T-Bone-Steak - Slice of Roast Beef with bone and smaller share of filet, 400–600 g, Smaller cut that Porterhouse-Steak
Club-Steak - Slice from the back part of the prime rib or from the ajdacent Roastbeef with or without bone
Rib-Eye-Steak - from the deboned round Roast Beef of the prime rib, slice of 2–3 cm, 400 g, 3–4 Rib-Steak or prime rib kollet, boned steak from the prime rib
BURGER WITH THE BEST BEEF
In addition to classic meat dishes and steaks, burgers are of course also part of the fixed stock at Max Meat Boutique. Only the best local meat is processed, in addition to minced beef, depending on availability, we also offer pulled beef and pulled pork.
Beef patty
Pulled beef patty
Pulled pork patty
Vegetarian and vegan patties from Evelyn's Power Patties
The burgers are served in our homemade potato-based burger buns. In addition to the homemade patties, our burgers are filled with different kinds of fresh winter vegetables. Of course there is also roasted onions. For those who like cheeseburgers, the burger can be refined with a slice of Schnittiger Kleinarler cheese. Our tasty burger sauces round off the whole thing perfectly.